This webinar will offer attendees updates on California leaves for employees. It will also highlight the 12 essential elements of documentation, and touch on accommodations and non-discrimination in regards to leaves in CA.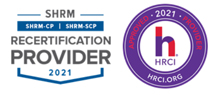 Course "Californian Leaves 101 - Pregnancy and Other CA Leaves" has been pre-approved by SHRM as eligible for 1 credits and HRCI as eligible for 1 credits towards a participant's recertification upon full completion.
The use of this seal is not an endorsement by the HR Certification Institute of the quality of the program.
Why Should You Attend:
In an increasingly complicated world of employee compliance in which HR struggles just to keep abreast of new developments, not teaching managers the basics can be costly. In CA, it can be damagingly costly. What can often be solved as a mere miscommunication in many parts of the country, can quickly turn into a costly lawsuit in CA.
From an HR perspective, this webinar will help training managers with the basics of CA leave compliance that can help defend against a whole host of employment claims, including those that often take root from miscommunication, misinformation, and mismanagement. Since it's the managers who interact with employees on a day-to-day basis, every day is an opportunity for problems to arise that a manager was never trained in how to address.
This training program will offer attendees updates on California leaves for employees. It will also highlight the 12 essential elements of documentation, and highlight accommodations and non-discrimination in regards to leaves in CA. The training is highly relevant for employers in CA particularly since:
In CA, even routine situations such as denying a seemingly simple request for a few days off can blow up into claims of a denied request for protected leave.
By the time an employee problem reaches HR, a level of liability has often been created; even more so true in CA.
Areas Covered in the Webinar:
Medical leaves in CA
Pregnancy in CA
Other CA leaves
City and county leaves
Interactions of leaves
Accommodations in CA - not just a disability but a condition - how accommodation affects leaves
The 12 elements of documentation
What to do with employee complaints
Who Will Benefit:
New HR staff
Front line managers
Department managers
Anyone newly promoted to a management position
Small business owners
Recently Asked Questions:
I have noticed that we started to receive doctor certifications putting employees off for 1 year right from the start. Have you seen this more frequently?
We have a couple of agency temps currently pregnant who will soon be taking a leave of absence for the birth. Are we obligated to keep a position open for them or can we end the assignment once the temp goes on leave? They would still be employed by the agency.
With PPLO, when employers are required to make up difference in wages, what if the employee has no PTO available.
Instructor Profile:

Teri Morning
President and Chief Everything Officer, Teri Morning Enterprises
Teri Morning, MBA, MS, SHRM-SCP is the president of her own HR consulting firm and Hindsight HR; employee relations and investigation management software. Ms. Morning is also affiliated with HR Performance Solutions as a compensation and performance management vendor. She has over 15 years of human resource and training experience in a variety of professional fields, including retail, distribution, architectural, engineering, consulting, manufacturing (union), public sector and both profit and non-profit company structures.
She has consulted with employers on their problems and trained managers and employees for over 10 years, meeting and working with employees from all types of businesses. In addition to an MBA, Ms. Morning has a Master's degree in human resource development with a specialization in conflict management. She was certified by the State of Indiana in mediation skills, is certified in project management and IT management, qualified as a Myers-Briggs practitioner and holds the SHRM certification of a Senior Certified Professional.
Topic Background:
CA is known for having many complicated state leave laws that in many cases, offer protections to employees greater than federal law. In many states, employees struggle to get leave for medical conditions. However, in CA there is very likely a leave to provide protection in most circumstances and to cover most employees. For example when regarding pregnancy in California, along with the federal Family and Medical Leave Act (FMLA), CA employers must consider both state and federal laws, such as the California Family Rights Act (CFRA), and the California Pregnancy Disability Leave (PDL). Plus, while the FLMA has eligibility restrictions, the California Pregnancy Disability Leave has no minimum requirement for number of hours or years worked to be eligible. Therefore, pregnancy in particular is very easy for an employer to conflict with CA regulations.
Because in CA it's not just medical condition that offer opportunities for leaves. For example in Emeryville, the City leave allows working people to use paid sick leave to provide care for some working dogs such as signal, service, and guide dogs. An employer might be required to provide leave for voting, literacy education, some parent/teacher conferences and organ and bone marrow donation. CA laws defining family relationships are often broader for eligibility than those under federal laws, and some leaves don't restrict leave to be taken for medical conditions of the employee or a family member, but instead can be taken in regards to a designated person.
Crime victims and those whom have to testify as witnesses regarding crimes toward others may be able to take leave. Victims of domestic violence, stalking or sexual assault, may very likely have leave options and accommodations available to them.